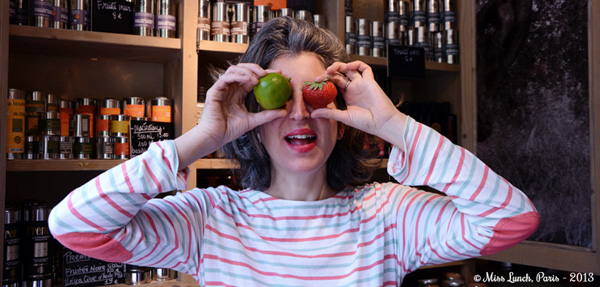 Miss Lunch @PPP is all about menus without hang ups, simple but  sophisticated, original and reasonably priced. Thanks to being located near the Aligre market, where Miss Lunch spends a lot of time chatting and tasting the products of her friends and accomplices of the market, the market vendros themselves, always generous in offering advice.
Menu Wednesday 15 to  Thursday 16 May 2013 (Miss Lunch will be off from May 17 to JUne 4)

-  Spring Beauchardise (fresh herbs and fresh peas)

OR

Matjes herring, green salad with citrus vinaigrette and PPP mandarin olive oil

-

Very basil chicken, broad bean purée and caramelised echalottes 

OR Stuffed red peppers with zucchini, white beans, and fresh herb
- The Spring Belgian
OU

Butterscotch tartelettes with strawberries

Formula for lunch: 15 euros : Starter + Main OR Main + Dessert

Dinner: Starter 5,5 euros – Main 11 euros – Dessert 5,50 euros


The menu changes every week and proposes two entrees, two mains and two desserts. Wine by the glass or by the bottle, Prosecco, fennel flavoured water or fresh fruit juice. Lunch at Miss Lunch @PPP is always a bubble of poetry and a discovery of new tastes and flavours.

The weekly menu may also include PPP products - Première Pression Provence – for sale, or to try on location dolled up by Miss Lunch - there are for example delicious terrines and sardines!